Around 1997, Richard (my husband) read an article about
Vancouver
as the best place to live in the world and that's not the end of it though. We did more than just wishing that we could live there but we did more than that. We applied for Canada's permanent resident on that year. By God's grace, we received our PR status in 1997 and we were required to move in Canada by 2001. So now we have live here in Vancouver since 2001.

The first thing I notice when I moved here is that the traffic is so light compare to the States and people drive much slower. Also Canadians are more forgiving to slow drivers like me!
The next thing I notice was they have more parks in here. Beautiful parks! I guess because they were influenced a lot by the British. British people love their parks and so do we. In fact, the name of Vancouver's state is British Columbia.
Vancouver is a city where everything you wish to have in your city is here. We have beaches. We have snowy mountains. We have rivers and lakes. We have parks and botanical garden. And all of these places are so near. You can reach any of these places within 30 minutes of less! Many tourists found it amazing that within a block from the noisy downtown, you can walk into a forest where it is so quiet in there! This forest is located inside the famous
Stanley Park
Vancouver is also a city where each area/district is located in different 'island'. So when you drive from South like Richmond to Vancouver, you have to drive across Knight Bridge or Oak Bridge. Then from Vancouver if you want to enter downtown area you have to drive across Grenville Bridge, Burrard Bridge, or Cambie Bridge. Then again when you want to keep on driving North to North Vancouver, you take Lions Gate Bridge.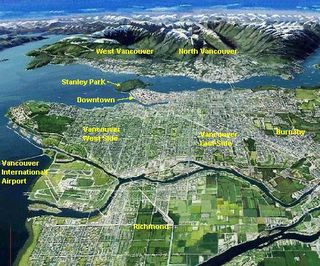 Because about half of the population is immigrants, Vancouver also has many ethnic neighborhoods. For example: Many of immigrants from Hong Kong live in
Richmond
. Then many immigrants from India or Pakistan live in
Surrey
. Then I know there are many Indonesians who live in Vancouver!
Then there is
Burnaby

where there are just so many Ethnic live together in that area. I heard that a lot of Taiwanese live there.

And off course we have
Chinatown
too even though sometimes I felt like Vancouver is a big China town since everywhere you go you can see some signs with Chinese Characters on them.
Chinatown Gate image

Chinese New Year in Chinatown

The crowd on Chinese New Year

Roast ducks in Chinatown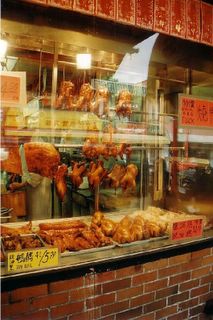 Dr. Sun Yat Sen Park Garden Image

I am sure we have an Italian neighborhood too it just I haven't started looking for it yet. Then I know at the west side of Broadway Street there is a lot of Greek community there.
Jewish
also has a big community around Oak Street. There are 3 synagogues on that road alone, not including their school, nursing home etc.
Too understand more about the multicultural community of Vancouver you can visit this
site
.
Because Vancouver has so many immigrants, you can imagine how many different types of
restaurants
we have here.
THINGS TO DO WHILE YOU ARE HERE
I guess for an outdoorsy type, you can start by going to
Grouse Mountain
or you can go to
Cypress Mountain
. Those 2 mountains are the nearest one which means it only takes about 15 minutes drive from downtown. In Vancouver our ski season last about 6 months in a year but it doesn't mean that after the snow is melting you can't visit the mountain anymore. The full view of Vancouver from up there is spectacular! You can see as far as Washington State from up there. Many people love to hike on those mountains. Just for extra information, if you drive 2 hours from here to North, you can reach the best place for skiing. That place is called
Whistler
. Then you can take a walk in Stanley Park too. Another interesting place is
Capilano
where you can walk on a very long suspension bridge. When the weather is windy, you will get the ride of your life! The bridge will swing like crazy! A lot of people find it very thrilling and if you dare to cross the bridge, then you have a tree top adventure where you will walk from one tree top to another by a much smaller suspension bridge. For a virtual tour of this place you can visit this
site
.
Here are some places that you need to visit when you are here:
1.
Stanley Park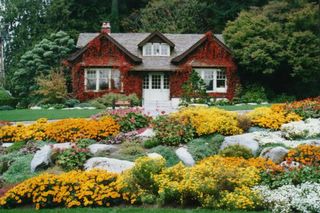 2.
Queen Elizabeth Park


3.
VanDusen Botanical Garden

4.
Granville Island

5.
Downtown Vancouver

6.
Chinatown

7.
Robson Street

8.
Richmond
The smaller of 2 big Buddhist Temple in Richmond. This one is just a minute drive from where we live.

9.
Metrotown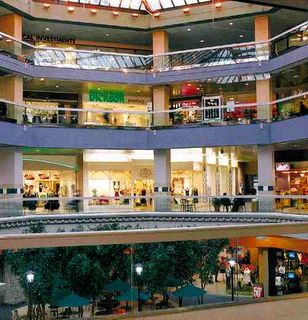 10.
Yaletown
Image of Yaletown

11. Granville Street and Broadway
12.
Kitsilano beach

13.
Capilano Suspension Bridge
14.
Canada Place


If you have kids like I do, here are some places where you can't miss:
1.
Vancouver Aquarium in Stanley Park
Image of Vancouver Aquarium's sea otter

2. Petting Zoo in Stanley Park
Petting Zoo at Stanley Park

3.
Kids Market
Kites and Puppets store in Kids Market at Granville Island

4.
Science World

In front of Science World

5.
Capilano Suspension Bridge

In the middle of Capilano Suspension Bridge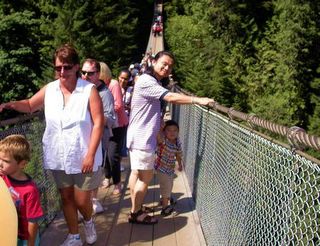 Tree Tops Adventour at Capilano Suspension Bridge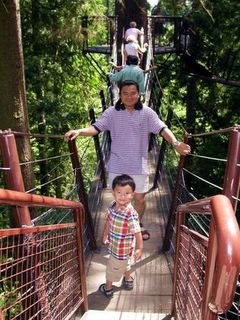 6.
Storyeum
Image from Storyeum show

You can find more information at this site:
http://www.discovervancouver.com/
If you have more than a week, you can also go to these places:
1.
Whistler
in ski season
Blackcomb at Whistler

2. Take a ferry to
Victoria Island
to see the world famous
Butchart Garden
and other beautiful tourist places.


We are at Butchart Garden in June 2003

At downtown Victoria

An amazing show of craftmanship in Miniature World

3. Drive 2 hours to the East to a town called Chilliwack where you can see a beautiful garden called
MinterGarden
.
Flower Car at Minter Garden

Miniature Chapel at Minter Garden

Canadian Flag at Minter Garden

4.
Tuscan Farms Garden
in Langley
Lavender field in Tuscan Farms Garden

TRANSPORTATIONS:
If you happen to stay near downtown area, you don't have to worry about
transportation
because we do have subway system in here too. We also have a pretty good bus system and taxies are pretty easy to get.

WHERE TO STAY:
To make your trip easier if you don't rent a car, I suggest you to stay in downtown area that near the subway stations.