Right after we spent 2 days in Disney, the next day after that we went to
Universal Studio
. There is a big different between the line up for the rides in Disney and the one in Universal Studio. I really strongly suggest that since most people who came to both of these places are always press for time to buy special pass on top of the ticket to enter. The special pass will let them wait in express line so you don't have to wait to long to ride those rides. This is especially usefull for Disney where the line up is really really long... I mean REALLY long ! Line 40 - 60 minutes for each ride.
We also buy for the first time the
all-you-can-eat buffet
pass for Universal Studio. Let me suggest you not to make the same mistake as us. It turn out that this special buffet pass only works on junk food restaurants inside Universal Studio. Usually the one that is tastier and healthier are not included on this buffet pass. Plus since a lot of people also buys this pass, the waiting line on those designated restaurants always like crazy, you will waste a lot of time there just to grab your junk food. Then, to make it worse, the pass doesn't include the drinks. Even when they said it include dessert, but when I order milkshake, well then, I found out that is not included as dessert. So I have to pay and their price for stuff like that is always higher than the price that you need to pay outside the restaurant. Plus, let me tell you that outside Universal Studio, there are tons of great restaurants to choose from. So, unless you are a junkfood lovers, don't buy that pass.
We still have a great time in Universal Studio but since they don't have as many attraction like in Disney, then some of the rides has a height requirement ( KK is too short! ), Richard and me already came here many times, we did not have to spend a long time to finish everything. So one day is more than enough to see Universal Studio.
The only place where Kai Kai enjoyed the most is the
Nickelodeon Blast
place where they can play with water like crazy. No wonder we saw many people came with bathing suits. We did not know it, but since the weather is warm, we let Kai Kai to ran around with his blue jeans only. Then just walk around with wet pants! He did not mind it since it kept him cool in this warm weather.
There are not many toys that I wish to buy as well. So I don't shop at all. But outside the Universal Studio at the City Walk, I bought 2 souvenirs because they are not like the usual boring souvenir. One of them is hand impressions of both Kai Kai and La La on a cement mixture. The other one is a photos and a keychain photo that has all of our picture. what makes it special is the seller took 2 of our pictures. First we just smile at the camera, the second one is I kissed La La and Kai Kai kissed Richard then he combine both pictures into one interchanging photo. So if you tilted the photo this way you see us smilling at you, but then you tilted to the other way, you see us kissing. Cute!
Pic: Even at night time at the City Walk, Kai Kai still manage to play with water again!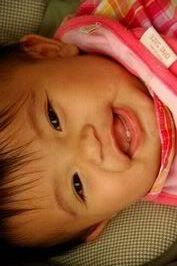 For Kai Kai this trip to Universal Studio is his second time to be here and each time he comes here he always wants to take a pictures with the cars that are being used in the
Fast and Furious Movie
!