Just as I promised on my last blog that I am going to write about my trip to Disney as soon as possible so here it is. Don't get confused by the time line, right now I am in Taipei. I was in LA's Disney from August 2 - 3.
Well... going to Disney with a baby is really different. The big different is, I am stuck babysitting La La, so for 2 days I couldn't ride most of those fun rides. But instead of just sitting and waiting for Richard and Kai Kai to finish their rides, I opted to walking around the stores for 3 reasons:
One, I LOVE shopping.
Two, they have air conditioning in there!
Three, I use their toys to entertained La La so she won't get bored.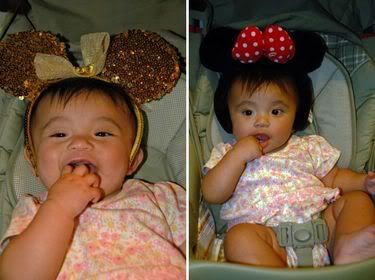 I am glad that La La is so easy, even though she couldn't take her long nap because of the noises, at least she did not cry, she enjoyed her time to be with me as much as I did too!
When I was small, I was never a girly girl but lately I have learn a lot from Mary Ann, on how to play girly stuff with your daughter and I love it! Mary Ann just told me that she played princess stickers with Jessica at home while Jessica wore one princess costume from her big princess costume collection. How cute is that? Even playing princess sticker she has to dress up to the occasion?
So when I was waiting I went to the Cinderella Castle and found a store full of princess costumes!!! I wish I can buy her all of those costume but for now, the only thing available on her size is the tinkerbell costume. So I bought one for her first birthday photo shoot in the future. Since La La is a tall girl, I bought one in size 18 months. I bought 2 other pink bodysuits in the same size but when I tried it on her, it turn out that she can wear them right now!!! I better keep my fingers crossed that she still can wear the tinkerbell costume on her first birthday! But for now, I let her wear the pink bodysuits, this is what she looks like wearing the bodysuits, isn't she adorable!!!
The last time we were here was 2 years ago and at that time Kai Kai couldn't ride some of the cool rides but now he is tall enough to ride all of them. He is really excited about that because according to him it shows that he is a BIG boy now instead of a baby!
But no matter how exciting is other rides, the one that he loves the most is this Autopia where he can drive a car and for once, his mom and dad became his passanger.
One thing strange though, when Kai Kai was only 4 years old, he wasn't scared with scary or fast rides but now that he truly can rides those ride, he was a little bit scared. Strange...strange...strange.... Is it because the older he is the more he knows how dangerous those rides can be?
There is one thing absolutely great at Disney when you bring a baby. They have a baby center , that place is so fresh cold, it has the old fashion charm like what you see in Disney old cartoon movie like the house of Wendy from Peterpan movie, even the 2 female employees that working there wear the same costume like in the movie. So charming. Then that place was equipped with everything you can think of for babies. Lucky for me because on the second day, I forgot to bring La La's diaper mat AND the diapers. I only brought the milk bottles but yet, it's not enough for a full day in Disney! So I went to that baby center and purchased everything that I need, plus they have a great place to change the baby's diaper even a place to wash them if they are too dirty or having an "accident". They have small toilet bowls for toddlers as well. I absolutely love that place, I wish everywhere I go I can always find this kind of service!!!!
Kai Kai has his face painted too in Disney, he wants a dragon , I like the way the painter put sparkles on Kai Kai's face. Cool!
If you love musical performance, then you will love to come to Disney because it seems like on every attraction area there is a group of people who sing and dance. Like these guys over here at New Orleans section of Disney. While they sang, they threw those necklaces to everybody there, I got 3, thanks to Richard's athletic ability to catch them. If it is up to me...well then... you know what will happen.... I am definitely not an athletic type of person...
Eating out in Disney I think should be fun but we did not get a chance to truly enjoy the good food because around the time when you want to eat is usually the same time when other people also wants to eat so the waiting line is always a nightmare.
On the second day, we stayed longer until they finish with the parade and then we wait even longer for their fireworks. When we stand watching the parade, there 2 little girls next to us that never stop screaming calling every single princess that they saw as if those actresses are real! Children are so cute ...
I also recorded the fireworks show so that I have something to show you ...
Video: The person that fly around the castle is tinkerbell.
What else can I say about Disney? I don't even know how to express how happy Kai Kai is there, or even adults like us. I think their motto "the happiest place on earth" is true.
Night time view of Disney: